Work for Ukrainian refugees
From April 1st, 2022, Ukrainian refugees are allowed to work in the Netherlands. We understand that starting to work in an unknown country is a big step. When you feel ready to take this step, we welcome you at Olympia, a temp staffing agency providing meaningful work throughout the Netherlands. We will look for work that suit your needs, instead of the other way around. We support you every step of the way, by providing you with language courses in English and Dutch and guide you through job interviews. When at work we connect you to a colleague-buddy, to help you feel at home at your new employer.
Are you a refugee but not from Ukraine? Visit this page for more information and to apply for a job.
For employers
Leaving your house, your country and end up in a foreign country. That is what happens to many people fleeing the war in Ukraine. Uppon arrival in the Netherlands the authorities are, with the help of thousands of Dutch citizens, doing their utmost to provide refugees a stable and peaceful place to stay. As from April 1st Ukrainian refugees are allowed to work in our country without a work permit. We guide and advice employers to provide suitable work for refugees. We urge our clients to realise that refugees from Ukraine are not economic migrants who have chosen to settle in our country. With the special needs of refugees in mind, we are looking for employers who are willing to adjust their job requirements to welcome refugees. Ofcourse we ask employers to always welcome refugees, no matter what country they are from.
Are you looking for work?
When you feel ready to work and you speak English at a basic level, we are happy to help you. We welcome everyone. Whatever your story, whatever your background. Fill in your information below and we will contact you within 48 hours.
Do you have vacancies?
Are you open to welcome employees from Ukraine in your company? Let us know by filling out the form below and we will contact you within 48 hours.
RefugeeHelp
RefugeeHelp is the online landing page for Ukrainian refugees. Here, you can find information about security, care, safe accommodation, legal aid, education and work.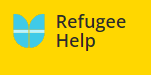 Support for employers
Olympia Werkvertrouwen is connected to the Dutch Council for Refugees and has taken on Ukrainian employees to ensure that our services meet the needs of refugees in the best possible way. Together with these employees we will look at what changes need to be made, for example to work schedules or other changes in the workplace. We offer the following support:
Provide flex workers with language courses in Dutch and English, if necessary.
Connect flex workers with a buddy-colleague in the workplace for practical, work-related matters.
Organise frequent evaluation moments with the client and refugees.
Share tips and practical information, such as webinars and podcasts, with refugees working via Olympia.
Olympia employed two Ukrainian employees for the first contact with applicants from Ukraine.
Please contact Olympia Werkvertrouwen for advice and support if you have job opportunities for Ukrainian refugees.